Opening an elegant dispensary under an illustrious patronage. Restoring Paris to the epicentre of beauty inspiration, as it used to be in the 19 th century. Gathering ancestral and universal savoir faire to invent cosmetic treatments and aesthetic perfumes that are as good as they are beautiful, infused with the progress of science and technology. To paraphrase Victor Hugo, let the key of the past open the door to the future. All that is passed, and passing, and to come; this is the History of Buly.
Once upon a time… Jean-Vincent Bully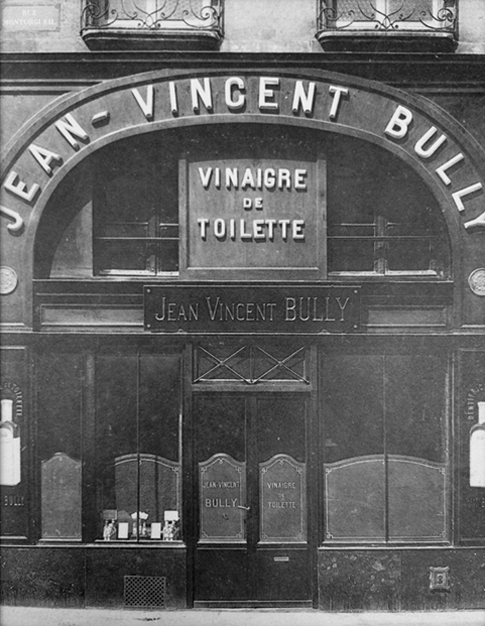 From a glorious rise to a tragic fall, his life had all the ingredients of an Epic Romance. The same entrepreneurial temperament ran through the veins of César Birotteau, perfumer and darling of the conquering bourgeoisie, born from the pen of Honoré de Balzac in one of the novels featuring in Scenes from Parisian Life. Truth is better than fiction: Jean-Vincent Bully – whose name bore at the time the double consonant – and his talents at distillation, perfumery and cosmetology left a mark on his epoch and on the history of beauty. The reputation of his Parisian store, on rue Saint-Honoré, founded in 1803, went far beyond the French border and circulated throughout Europe.
And yet the competition was fierce: the 1807 Almanach du Commerce listed no less than 139 perfumers located in Paris, and according to the City's Préfecture, the toiletries trade was the second largest employer in the capital. Whether they concocted their own preparations or merely sold them, perfumers emulated the modus operandi of pharmacists and apothecaries. This was the era of the rise of the modern preoccupation with hygiene. Concurrently, the Napoleonic Code, established in 1806, had instituted new requirements for perfumers, stimulating the creativity of pharmacists and improving the quality of their preparations. With his obvious flair for the Zeitgeist and a head for business, Bully was open to the progress of science and cosmetics and used them to develop inventive formulas. Among them, a vinegar with a thousand virtues.
From a miraculous vinegar…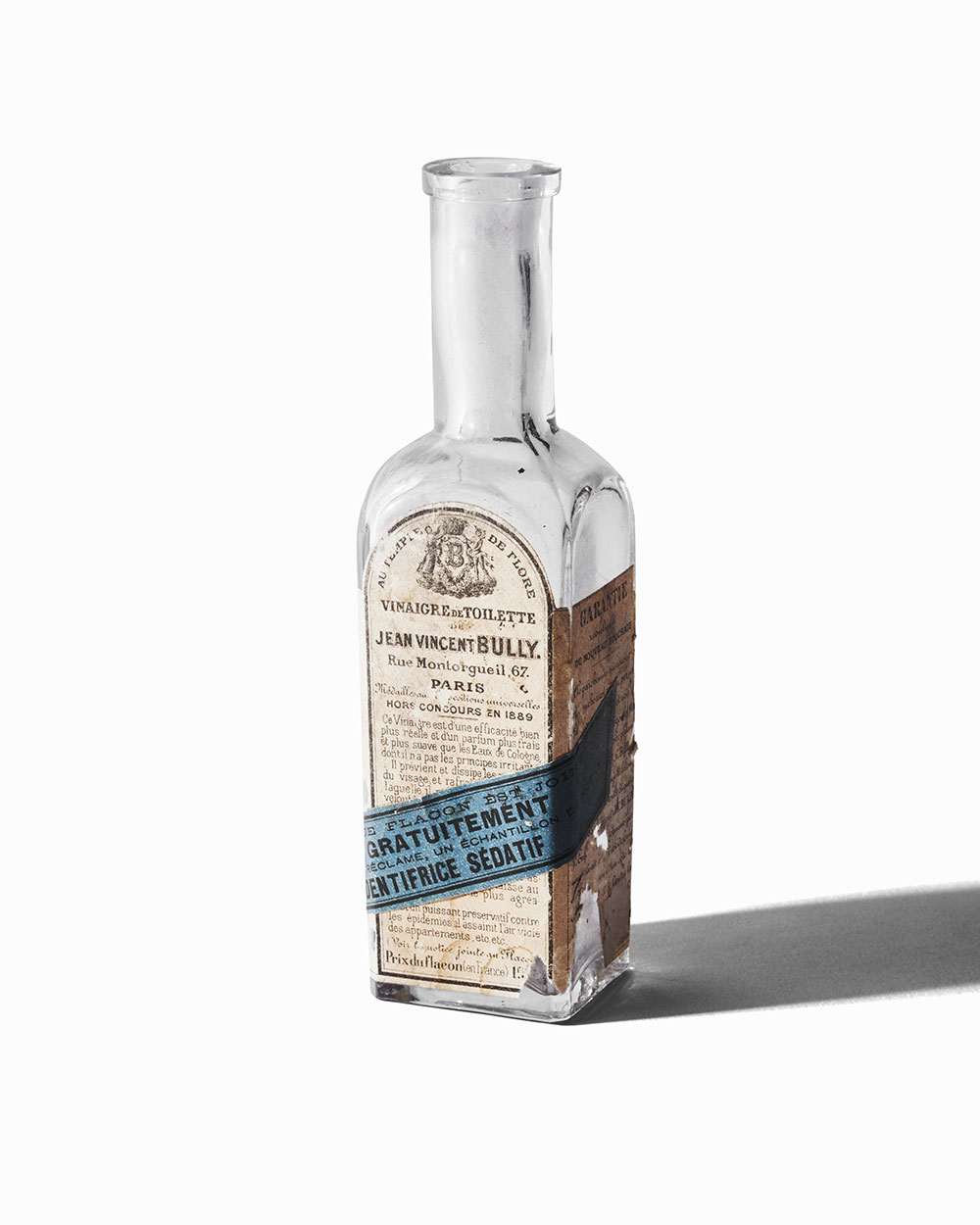 Already, in Antiquity, vinegar, mixed with a solution of water and honey, was deemed a remedy suitable for certain infections or diseases. In the 18 th century, one of the most famous potions was a macerated preparation called 'Four Thieves Vinegar' and was considered the best protection against the Black Death, the plague. It only took a few nudges to turn this vaccine avant la lettre, this miraculous vinegar into a toiletry product, at a time when water was frowned upon, held responsible for spreading contagion. Vinegars infused with citrus, spices or flowers flourished, not only as a cleansing lotion but also a pick-me-up inhalation to revive the spirits.
In the 19 th century, the use of vinegar changed. Still a staple of the medicine cabinet, it could be poured in the bath – water had been rehabilitated – and vinegar also became a part of the skincare routine for the face, as a toner and complexion enhancer. At the time, cleanliness was a sign of good health and an indicator of social respectability – the privilege of the middle and upper classes. At the same time, makeup was frowned upon, an artifice tolerated for theatre artists and better left to women of easy virtue: a face should have no decoration but its natural glow. A rosy hue, delicate pallour, and a fresh complexion were the centre of attention. The time was ripe for the appearance of the extraordinary Vinaigre aromatique et antiméphitique de Jean-Vincent Bully ('Jean-Vincent Bully's Aromatic and Antimephitic Vinegar'). With a formula protected by patents in 1809 and 1814, the lotion became a sought- after remedy against any ailment and the key to flawless beauty. Against cologne, its competitor whose quality varied, with counterfeits and imitations abounding, Bully's vinegar became a classic among beauty products, a best- seller awarded a medal at the 1867 and 1878 Expositions Universelles. The popular press was unanimous in chronicling and praising its merits and its roaring success. Le Petit Journal, in its 12 April 1869 edition, writes: 'There is a whole regiment of them, a battalion in serried ranks in the front window, but this regiment's colonel is always Jean-Vincent Bully's familiar vinegar, a veteran still standing despite the army of competitors trying to take its place. Gentle on the skin, pleasant to the nose, like it says on the advertisement, it remains on the front lines, like an old soldier, proud of the medals adorning its lapel'.
… To the Invention of Modern Perfumery
Showcase of Europe and the world, Paris sets the tone in fashion and beauty (Haute Couture and the cycle of Seasons initiated by Charles-Frederick Worth had just begun to blossom). Paris is where things are happening, where people come to look for the latest in culture and codes of behaviour. And the Parisienne, whose allure and beauty are so natural they seem to be innate, is the one to imitate. Rice powders, foundation pastes, milks and astringent lotions, eaux de toilette and extracts, vinegars obviously… Paris distills the very quintessence of modern beauty and perfumery, in its gorgeous officines and elegant perfumeries. Bully is among the most famous. This is the Golden Age that Officine Universelle Buly aims at restoring. Buly, with one 'L', handing on the torch, a new story, a new universal era.
Officine Universelle Buly:
A New Chapter
Victoire de Taillac and Ramdane Touhami, co-founders of Officine Universelle Buly, have something of the time traveller in them. A kind of vocation for transmission, both inspired by the excellence and virtues of the past and eager to secure beauty's heritage with the best of the present. Their taste for true perfumery, with authentic formulas, free of harmful chemicals, matches their conviction that universal beauty secrets, which have lasted and been passed down for millennia, have lost nothing of their relevance, virtue or wisdom. Their profound passion for ancestral savoir faire and hygiene and beauty routines from all over the world was made concrete with the opening of Officine Universelle Buly, 6 rue Bonaparte in the 6 th arrondissement, in 2014. A veritable bastion against the disappearance of the world's beauty heritage. And a dispensary offering simple, precious, efficient, respectful, modest or legendary products, gathered from History and Travel.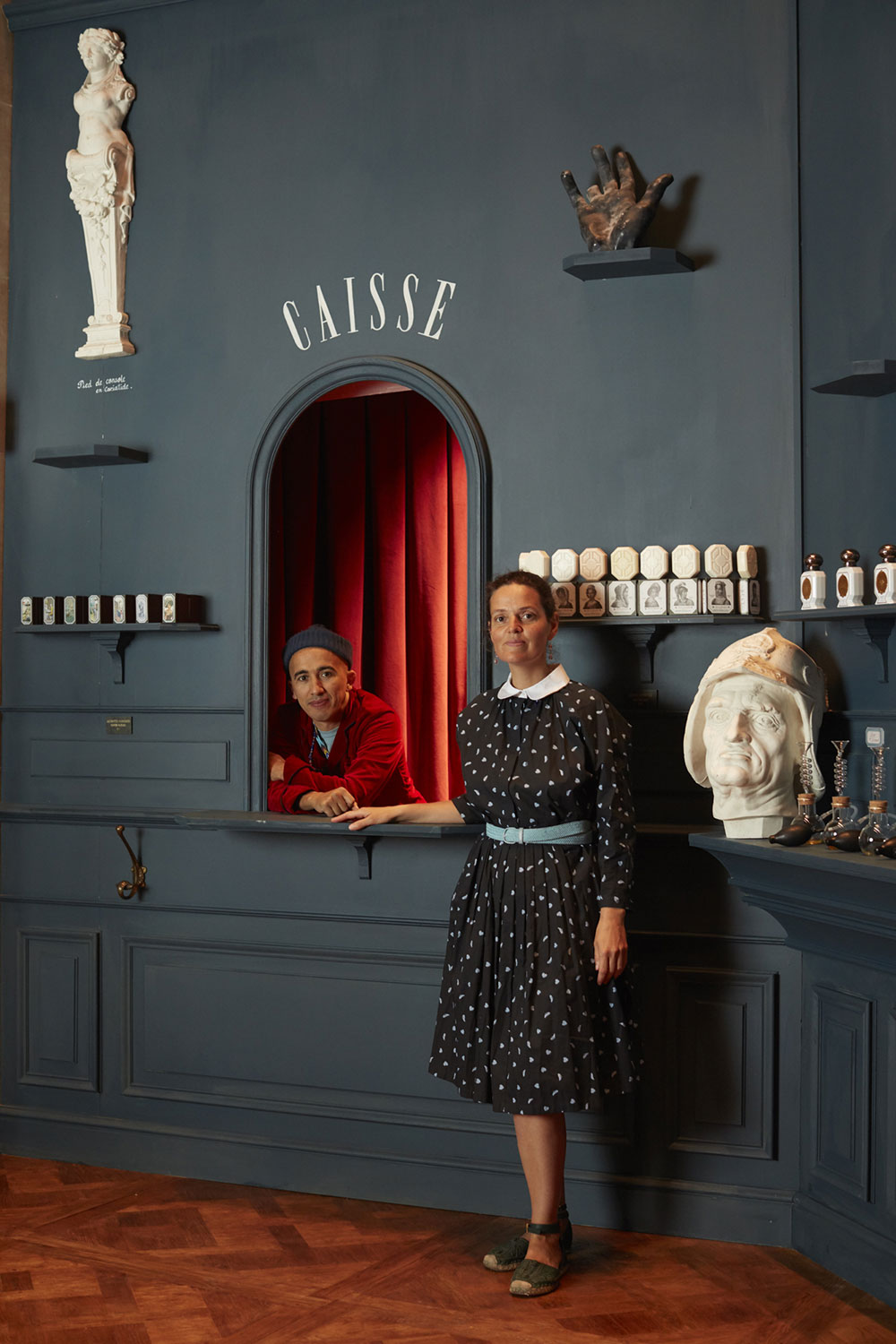 Victoire de Taillac and Ramdane Touhami share a love of travelling, seeking and exploration, a deeply rooted respect for traditions, a capacity for audacious innovation, a commitment to precision and efficiency. Every one of these facets gleams in each new project. This is how these free spirits imagined Parfumerie Générale, their first concept store dedicated to niche cosmetics and perfumery, in 2002. This is how they orchestrated the relaunch and global success of candlemaker Cire Trudon in 2006. This is how they designed and published Corpus, an annual review dedicated to beauty, body and mind, in 2013. The following year marked the rebirth of Buly.
Ramdane Touhami has been making his way in the world of fashion, creation, art, publishing and beauty since the 1990s. The serial entrepreneur, driven by passion, is also the founder of creative agency Art Recherche Industrie, and architect of WAM, a magazine born in 2020. Conductor and artistic director of Buly, he brings his free outlook on things, capturing tomorrow's trends, imagining new products and new orientations, and delivering his very personal vision of beauty. He designs Buly stores, ensuring a perfect coherence of the creative process, and making sure each of them integrates seamlessly into the aesthetic heritage of the city they call home.
Clothing might be a means of expression for her, but Victoire de Taillac discovered a passion for beauty very early on. An affinity nurtured by generation after generation in her family. With a background in the study of History, and years as Head of Public Relations for emblematic store Colette, she is more than ready to become the most inquisitive mind in cosmetics, a relentless delver into the history of beauty and its secrets around the world. This enthusiasm drives her everyday life as she focuses on a unique texture, elaborating new products or finding new ingredients, and inspired the writing of an Atlas of beauty secrets around the world.
All the Beauty in the World
Conceived in Paris, formulated in a French laboratory, the skin-care products and perfumes designed by Buly make up a peerless and timeless experience. Building a bridge between natural ingredients, the teachings from ancient recipes, and the innovative technologies of contemporary cosmetics, they promote an approach to beauty that is personal, intimate and bespoke, through which each person elaborates their own rituals and develops their own skill set. A beauty that makes them want to take time for themselves, to explore every recipe, every texture, every ingredient or every tool to make it their own. A functional beauty that doesn't neglect the aesthetic pleasure given by a product, its container, or an accessory. A form of beauty humanised, resurrected, and purified. Today, Buly continues to travel the world in its ongoing mission of promoting art de vivre, liberté, beauté.
Buly, Home of a certain je ne sais quoi ...
Every journey ought to have stopovers. For Buly, they are stores peppered around the world. From Paris to Kyoto, from Seoul to Tokyo, from London to Taipei, and in many other places, our 14 addresses blend into the urban landscape, as if they had been there forever. More than that: each one is a manifesto against standardisation. Each is inspired by its home city: the architecture, the culture, the residents and their customs.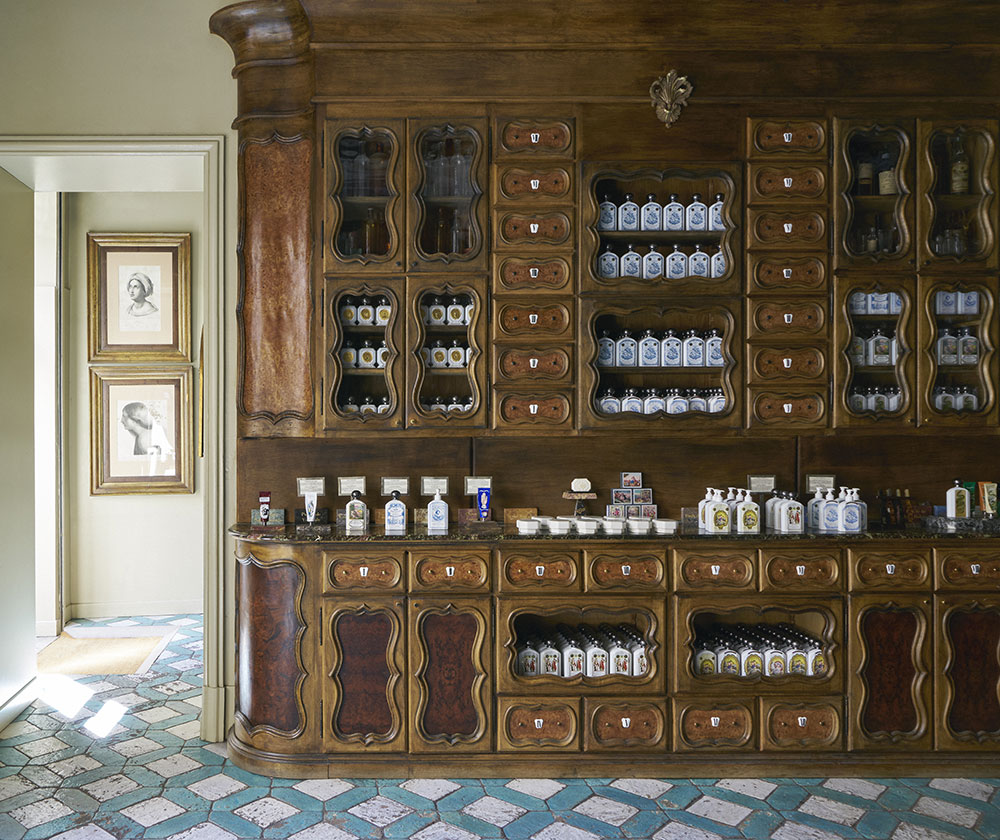 Once you pass the threshold, another journey begins, towards the Paris of another era. Details borrowed from the local environment, making each store unique, are combined with the spirit of French pharmacy officines from the 19 th century. Like a red thread running throughout the tapestry that is Buly, our 'Houses' have this décor in common with furniture and panelling in polished walnut, marble-topped counters, antique faucetry, the alembics and retorts of the Chemist, bottles, flasks, vials, and jars in ceramic or glass… A warm and lively atmosphere emphasised by the generous welcome from our obliging assistants, each one happy to personalise every purchase with a message marked in elegant calligraphy on the spot, and to wrap it following the origata technique, the Japanese art of wrapping. The finishing touch, the signature display of Buly's philosophy: unique, precious, and authentic.